ACMarket is one of the most comprehensive Android app installers available. Working on both iOS and Android devices, the installer is much like a third-party app store, offering access to thousands of Android apps and games, all free, including some of the very best modified versions too.

Downloading ACMarket app it is very simple and using it is easy too but, while most Android users have had a good experience with ACMarket, some have come across an irritating issue where the installer has stopped working. This could be down to any number of reasons, but there are three ways that you can try to fix the error.
Fix ACMarket Stopped Working on Android: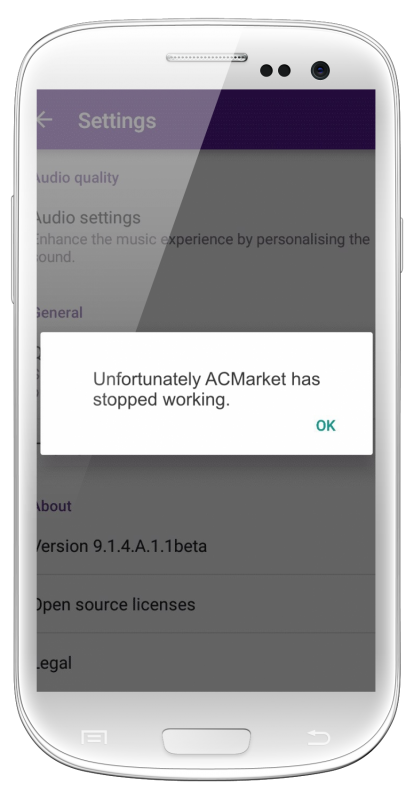 Start with Method 1 and work your way through until you find one that solves the problem on your device:
Method 1: Reset Your App Preferences
This is by far the easiest method and usually works for most people:
Open your Android settings app on your device
Go to Apps or App Manager, depending on the Android version you are running
Look for All Apps and tap the menu
Choose Reset App Preferences from the menu
On the confirmation message, click on Reset Now
Try ACMarket again, and it should work
Method 2: Clear the Package Installer Data and Cache
If the first method doesn't work, try this one:
Open your Settings app again
Look for Apps or Manage apps and select it
Scroll down to System Apps and look for Package Installer – tap it
You now have two options – Clear Cache and Clear Data. Click on each one to clear them. Note – if you  are using Android Marshmallow 6.0, the options for clearing the data and cache will be found under Storage
If ACMarket still isn't working, move on to method 3.
Method 3: Enable Unknown Sources
If neither of the above two methods has worked, this one will:
One your Android Settings app
Tap on Security and then on Unknown Sources. 

Make sure the box is checked beside Unknown sources to enable it
Try the app again – if it still doesn't work, delete ACMarket and reinstall it with this option enabled.
Hopefully one of these methods will work to fix ACMarket when it stops working on your Android device.
More Error and Fixes :
Let us know how you got on, and which method worked for you. For more tips and all the attest developments you can follow us on Facebook.
*Please let us know if the Download LINKS on this page are NOT WORKING.