ACMarket is one of the top sources for downloading 3rd-party Android apps and tweaks on your phone.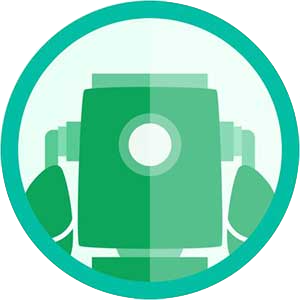 Update: The ACMarket appstore is currently not working. While the issue is being resolved, we recommend downloading the HappyMod app on your Android phone.
You can download ACMarket using the links below.
How to Install ACMarket App:
Tap on the APK download button(s) above to download the ACMarket APK file directly on your device. Tap on the .apk to install it. Ignore the security alert and press OK as shown below.
Go to your Settings option as prompted by the Chrome browser.
Enable Allow from this Source and make sure the box next to it is ticked. If you don't do this, you cannot install the AC Market APK on your device
When the installation is done, you will see the AC Market app icon on your device's home screen.
Launch the app and start downloading unofficial apps and tweaks.
If the ACMarket app is not working for you, then try an alternative app installer.
The above steps explained on video ( YouTube )
How to Use ACMarket App:
Download ACMarket as per the above instructions
Once the installer is on your Android device, tap the icon to open it
You will see a screen that has three categories on it, Apps, Tweaks, Mods.
In the Apps category, you will find many of the apps for your Android device
In the Mods category, you will find your favorite tweaks along with extras to improve the user experience on Android OS.
You will also see a Search bar at the top of the screen, if you know what you want, just type it in and search for it
You also get a Profile section where you can customize and optimize the app based on your usage.
How to Delete ACMarket App:
Open the Settings app
Tap on Applications or Apps and a list of your installed apps will load
Look through the list of apps until you find ACMarket, tap on it
Tap Uninstall

Wait until the process has finished, close your Settings app and you will see that ACMarket has been deleted from your device
Troubleshooting Guide:
Fix ACMarket App Not Installed Error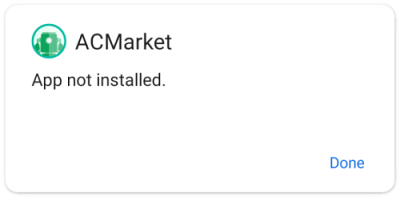 Method 1: Clear the Package Installer Data and Cache
Go to your Settings app and look for Apps or Manage Apps
Tap it and look for System
Under System you should see an option for Package Installer; tap this
From here, tap the buttons to Clear Data and Clear Cache.
Method 2: Enable Unknown Sources
This is generally disabled by default; enabling it will allow you to install third-party apps:
Open your Settings app
Tap on Security and then tap Unknown Sources

Enable the option by checking the box beside it
Close Settings and try ACMarket; it should work. If not, try uninstalling ACMarket. Leave the Unknown Sources option enabled and install ACMarket again
Fix Problem Parsing the Package


This occurs due to the following reasons. Addressing the issues may solve the problem.
The ACMarket APK file has not downloaded correctly or is incomplete.
The application may not be compatible with your device or installed Android OS version.
Your phone's security settings may be stopping the ACMarket app from downloading or installing.
The ACMarket APK file may be corrupted during download.
Frequently Asked Questions:
ACMarket is an alternative to the Google Play Store. Here you can download the apps which are not available on the official store. Also, you don't need a Google ID to download apps from AcMarket Store.
ACMarket is Safe to Download and Use. The developers do monitor it regularly, keeping it updated with new content, and any bug fixes required. However, it isn't always possible to monitor the integrity of every app in the store, so you are advised to install and use a good anti-virus protection on your phone. If you do not like the ACMarket app, you always have the option to easily delete it using the instructions above.
Yes, the ACMarket app is entirely free to download and use. ACMarket is home to lots of unofficial Android apps and tweaks, and all of them are free to download. The installer is supported by ads which is where ACMarket makes its revenue, allowing its users to have the content without any charges.
No, ACMarket is a Safe app. Trusted by millions of users worldwide, it has a reputation to provide only the Safest Apps and tweaks that have been tested, free of malware and virus.
Do I Have to Root my Phone to Use ACMarket?
No, you do not have to root your android phone to use ACMarket. The ACMarket app can be installed on your phone without rooting and hence does not affect your device warranty. However, if your device is already rooted, it would be beneficial for you because some applications or tweaks may be blocked by Google Play Protect when downloaded from the ACMarket store.
AC Market works by installing the acmarket.apk file on your Android device. It then shows you apps and tweaks listed in Categories for you to choose from. Select the app or tweaks that you like and hit the download button to install. There are some occasional advertisements, that are meant to support the services provided.
Can I Install ACMarket on PC?
Yes, you can install ACMarket on a PC. ACMarket has now been given support for Windows PC and Mac OSX, giving desktop users the perfect access to thousands of new Android apps and tweaks. You can get a full tutorial at the given link.
How to Install ACMarket on iPhone?
ACMarket is only available for Android users because it contains only Android apps and tweaks. However, ACMarket apps can be downloaded on iOS and on Windows by following some very easy download tutorials.
Why is ACMarket Not Working?
There can be many reasons for the ACMarket APK to stop working. Your cache may need clearing, along with app data, you may need to enable Unknown Sources.
Will ACMarket Void My Warranty?
No, the ACMarket app does not affect your device warranty. This is because ACMarket does not require any special modifications to work. It will run on your device in the same way that any other Android app runs and doesn't flout any security rules laid down by the Android OS. However, some of the unofficial apps in ACMarket may invalidate your warranty so, if you ever need to take your device to a service center for repair, you should delete the downloaded tweaks first.
What is Parse Error on ACMarket?
The parse error occurs while downloading and using the ACMarket app. This can be for a couple of reasons. You may not have downloaded the APK file correctly, or the apk file version is incompatible with your phone. The downloaded file may be corrupted or there is a security setting on your phone that is stopping the ACMarket app from working correctly.
Give Us Your Feedback
Important Links:
User Ratings:
Similar Apps:
Panda Helper
Panda Helper app allows downloading of top apps and games APK.
GetAPK
Play Store alternative to download free apps.

LuckyPatcher
A tool to add extra android app and game features.