The Android platform is undoubtedly one of the most open of all mobile operating platforms, and the Play Store offers heaps of apps and games to choose from. If you want more choice, f you want to download modified versions of some of those apps and games, you should get ACMarket on your device.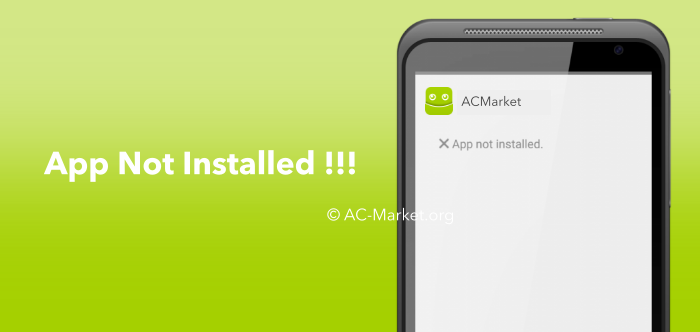 A third-party installer, ACMarket offers tons of free apps and games, including modified and tweaked versions and its very simple to use. However, some users have reported problems with installing ACMarket; they follow the instructions correctly but still get a message telling them that ACMarket has not been installed. Irritating though this is, there are a couple of ways to fix it.
Fix ACMarket App Not Installed Error :
While getting this error is annoying, it is easy enough to fix and, to help you out, we have four different methods. Start with the first and work your  way through until you find one that fixes the issue for you:
Method 1: Clear the Package Installer Data and Cache
Go to your Settings app and look for Apps or Manage Apps
Tap it and look for System
Under System you should see an option for Package Installer; tap this
From here, click the buttons to Clear Data and Clear Cache. Android 6.0 ( Marshmallow 6 ) users will find these options in Storage ( click it and clear the data and cache ).
If this doesn't work, move on to Method 2:
Method 2: Enable Unknown Sources
This is generally disabled by default; enabling it will allow you to install third-party apps:
Open your Settings app
Tap on Security and then tap Unknown Sources

Enable the option by checking the box beside it
Close Settings and try ACMarket; it should work. If not, try uninstalling ACMarket. Leave the Unknown Sources option enabled and install ACMarket again
Method 3: For Rooted Devices
This is a little more advanced :
On your rooted Android device, locate and download a root explorer app
Open it, copy the APK file
Navigate to System > App
Ensure the app has permissions enabled
Close Settings and the app should now be installed on your device
Method 4: Clear Some Space and Set the Path
The final thing to try is to clear some space on your device. Delete any apps that you no longer use, delete any files you don't need, move your photos, music, etc. to an external device, and then try installing ACMarket again. You should also check that your SD card has been correctly mounted if this is where you are installing ACMarket too. Installing to the SD card isn't advisable because some APK files cannot be read correctly by the Android Package Installer; this will cause conflicts and issues on your device so try to install it to internal storage instead.
Have these methods helped solve the issue on your Android device? Follow us on Facebook, and we'll let you have access to more useful tips like these.
SaveSave
*Please let us know if the Download LINKS on this page are NOT WORKING.