Nox Player is an android emulator that lets you play android games and run android apps on your computer.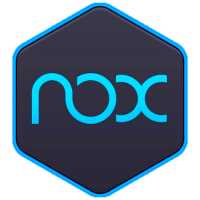 You can download the Nox Player app using the links below.
How to Install Nox Player:
Download Nox Player on your Windows PC or Mac from the links above
Find the installation file on your computer and click to begin the installation process. It takes just a couple of minutes.
When the installation has finished, click Start to open Nox Player and wait ( it will take a few minutes to load fully )
How to Use Nox Player:
After you install the Nox Player using the steps above, double-click the Nox Player app icon to launch the app.
This will open the Nox Player and begin loading the Android operating system.
When the Nox Player home screen shows up, you should see several apps, including Google Play Store, Browser, Nox App Center, and more, as shown below.
Click Google Play Store and setup your account – click existing Account and log in using your Google login details or click New and follow the steps on the screen.
Follow the in-app instructions to finish setting up your account, and, in the end, you will see the PlayStore.
On the right side-bar in Nox Player, you will find many more options, including transferring files from your Mac or PC to Nox and installing .apk files. ( Image Below: ACMarket App running on a Windows laptop using Nox Emulator )
Features of Nox Emulator:
Fast, Smooth Gameplay – Speed is always important, and Nox Player is the fastest we have seen so far, not to mention one of the smoothest. The performance settings are customizable, with users able to specify the number of CPUs and the amount of memory (RAM ). For a basic user, 1.5 GB RAM and 2 CPUs should be enough, but you can go much further.
Controller Compatibility – If you like playing computer games, you know that having a physical controller is far better for gaming than a device touchscreen. With the Nox emulator, support is built-in for all 3rd party controllers, including the Xbox 360 support.
Android Device Emulation – Real emulation, including your IMEI number, phone model, and phone number, among other device-specific features.
Root Access – Not all emulators make it easy to get to the root, but the Nox emulator is rooted with SuperUser right from the start, giving you access to your PC files.
How to Fix Nox Player Errors:
Graphics Card is Out of Date
The simplest way to fix this is to update the drivers. You can do this manually or install Driver Booster or another automatic update software that does it for you.
Conflicts between Nox and your Antivirus
Those who use BitDefender, Avast, or other third-party antivirus software could run into trouble when installing Nox Player. If your installation indicator seems to be stuck at 99%, you will need to temporarily disable the antivirus or make Nox Player an exception in the software.
Conflicts between Nox and Windows Defender
The same rule applies to Windows Defender, Microsoft's own antivirus program; if it sees Nox Player as a threat, you will need to disable it temporarily or make an exception for it.
Nox Player Installer will Not Run
This usually happens on a Mac; although the installer has downloaded, it will not run, and the way to fix it is to right-click on the icon and manually open the installer.
Install an Old Nox Player Version
If you have problems with the latest version of Nox Player, install an older version compatible with your system.
Frequently Asked Questions:
Nox emulator is a software that runs on your computer and allows you to install and use android .apk files. Nox emulator creates a virtual android phone on your computer where you can play Android games like PUBG or Fortnite and take advantage of your desktop computer's keyboard and mouse. If you have a powerful PC, you will have a powerful android emulator. Check out the infographic below.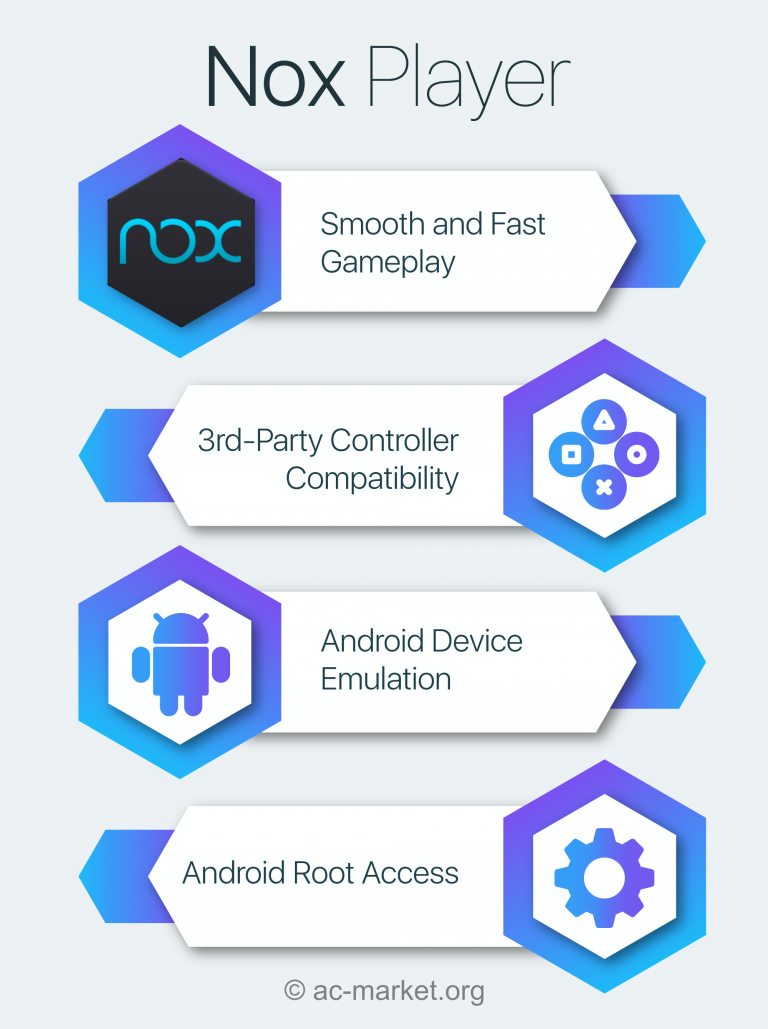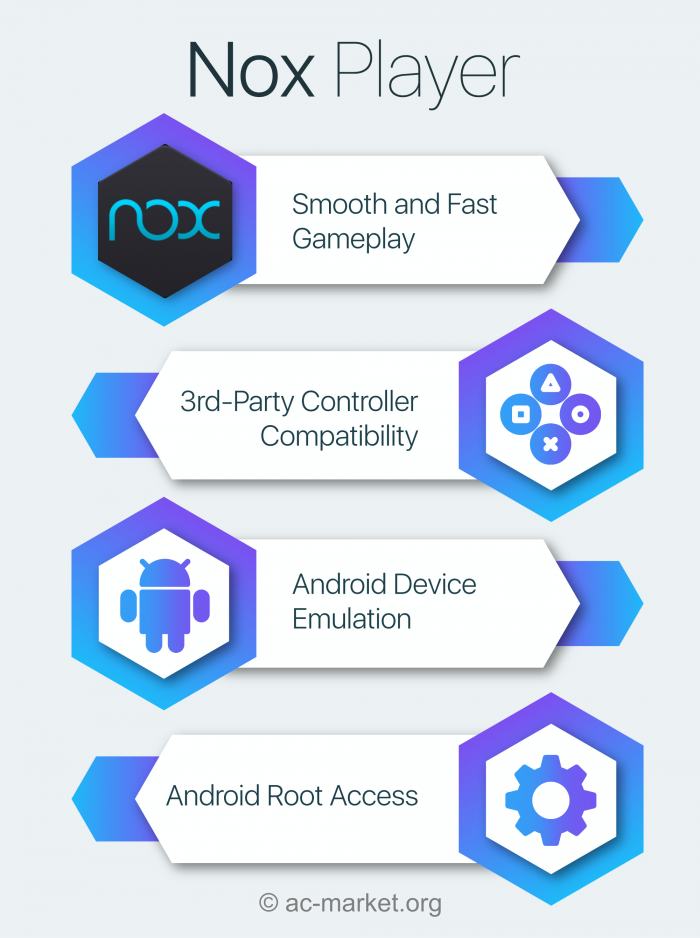 Bluestacks vs. Nox Emulator – What's the Difference?
Although Bluestacks is the largest Android emulator for PC, a recent update has left it lagging in gaming performance, and FPS drops. Nox emulator, on the other hand, is just as good as Bluestacks for playing Android games, and it doesn't have those performance lags or crashes. Nox Player gives you the ability to play several games at once with no performance issues.
Nox Player is easier to root than Bluestacks.
Bluestacks takes up a lot of resources on your computer, like CPU, RAM, and storage space. On the other hand, Nox Player is a much lighter emulator. Bluestacks has very heavy system requirements, and if you are suffering from compatibility issues, the Nox emulator app is the best alternative option.
Both Bluestacks and Nox Player are excellent Android emulators, regardless of some noticeable differences.
Yes, the Nox App is free to download for Windows and Mac computers.
No, The Nox Player is safe to download and is tested for reliability and safety. It is free from any malware or spyware.
How do I play games on Nox Player?
You can play games on Nox Player by downloading the game .apk file on your computer and then open and install it on your computer using the Nox emulator app.
How do I Remove Nox Player?
Deleting Nox Player from your computer is easy. Simply go to Control Panel > Uninstall Apps and delete it from there. On a Mac, go to Finder > Applications and delete the Nox app from there.
Why do my Games Lag on Nox Player?
There are a couple of reasons why this might happen, and you must address them to resolve the issue.
Not enough memory or RAM is allocated to the Nox player.
Low-performance processor
Outdated graphics card drivers
The conflict between Nox Player and your antivirus software
Why Game Keeps Crashing on Nox Emulator?
There could be several reasons why this happens, but the most common causes are outdated graphics card drivers and compatibility issues. To find out what's causing it on your system, run System Diagnostics.
Why do FPS Drop in Games while using Nox Player?
These are incredibly annoying to game players, and the culprit is most likely the GPU and graphics card drivers. Update your card drivers and make sure that you set Nox player to high-performance mode. You can also modify the in-game settings per your system specifications.
How to Fix "Can't Connect to Network" Error?
Another common issue arises when you attempt to connect to the internet from Nox Player. Fixing requires changing the DNS (Domain Name Server) settings by changing your Wi-Fi or computer settings. You can use free DNS services, such as OpenDNS, Cloudflare DNS, and Google Public DNS.
Antivirus Software Slows Down the Nox Emulator
Users of external antivirus software, such as ESET NOD, Kaspersky, Norton, or Avast, have found that the software interferes with the emulator speed, slowing it down. The best way to determine if this is your issue is to disable the real-time antivirus protection temporarily. If Nox Player speeds up, you know that's the issue and will need to add Nox to your firewall as an exception or exclusion. Please re-enable your antivirus once you have done the test.
How to Fix Black/White Screen Problem in Nox Player?
There are two ways to fix this. First, go to Settings > Performance > Graphics Rendering Mode and choose a new mode, i.e. OpenGL or DirectX. Save and then restart Nox; if the issue persists, change your NVIDIA or AMD graphics card's performance to high and update your drivers if needed.
How Do I Connect a Controller with Nox Player?
Connect the controller to your PC using the USB cable
When the connection has been made, a Controller icon will appear in the top left of the Nox screen.
Tap the Controller icon, and Settings will open.
Change the Settings how you want – character control via the analog-stick, effects for multiple strikes, and much more.
Save the settings, and the controller is ready for use.
How Do I Fix Virtual Machine Failed to Start?
First, reboot your PC and then close down the firewall and anti-virus software.
Right-click on the Nox icon and select Open File Location
Click "Nox" to go back to the Nox File Folder, then go to the folder named "noxvm."
In the emulator folder, click on the noxvm file.
When it opens, you will see an object called NOXVM – right-click and choose Run as Administrator.
The error will be gone.
How Do I Fix Error 1005: Your Graphics Card is Outdated?
Open Multiplayer and try setting the rendering mode as DX or OpenGL. Restart Nox Player.
If the issue has not been resolved, you will need to update your graphics card drivers using apps like Driver Booster.
If that doesn't fix the issue, your graphics card is not compatible with the emulator's system requirements – the only fix there is to buy and install a new card.
How Do I Fix Error 1006: Nox Needs to Reboot
This error indicates that you are running an outdated version of the Nox Player – download the latest version of the Nox Player app from the links above.
If you are on the latest version, change the graphics rendering mode ( see above ) to either DX or OpenGL and try again – it should work.
If you come up against other issues not mentioned here, feel free to tell us about them in the comments section box below, and we'll do our best to provide a solution.
User Ratings :