Endless running games are among some of the most popular in the world, experiencing huge download numbers from the Android app store. One of the most popular is Subway Surfers, an incredibly simple game with simple on-screen controls. And it's free to download.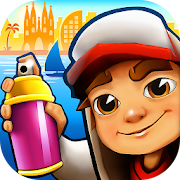 What's the story?
What is Subway Surfers?
Much like the popular Temple Run apps, Subway Surfers is nothing more than endless running. But there is a bit more to it than that, though. You are running from a grumpy railway inspector and he mustn't catch you – if he does, its game over. On the way, you dodge carts trains, buffers and many other obstacles, collecting coins which you can use to purchase power-ups. The game controls are very simple – swipe to jump or duck and tilt your device to turn. You start the game running and the idea is to run for as long as you can.
Wait, there's more
App Features:
When you play Subway Surfers, you get all these features:
Free to download – in-app purchases are available
Great cartoon-style graphics
Easy game to play – just run and swipe to avoid the obstacles
Collect coins to trade for powerups
Don't let the inspector catch you!
Addictive and fun gameplay
lots of other features
How cool is all that!
How to Download Subway Surfers:
It's easy enough to do; open the Play Store on your device, find Subway Surfers and install it.
Tap the icon on your home screen and start running!
It really is that simple
But
Although Subway Surfer is a free game, you might be tempted with the in-app purchases as they can help to make your game better. If you don't want these to be so readily available, perhaps temptation is just too much, the easiest way to stop them is like this:
Go into Android Settings and open User Controls
Set up a password or, if on earlier Android versions, a pin number – you can also opt for fingerprint access
Go back into User Controls and set it so that in-app purchases require your pin or password
Over to you
With all the endless running games available, Subway Surfers is proving one of the most popular. It is an addictive game and it provides hours of endless fun. You can never lose all your lives; when you die you just start again. Join the fun; download Subway Surfer and let us know what you think of it. You can get more Android tips and tricks by following us on Facebook.
*Found a Broken Link? Report it below.