Are you looking for a fun messaging app? Are you bored of standard apps? Then take a look at Snapchat. It is, hands down, the most fun you will ever have in your messages.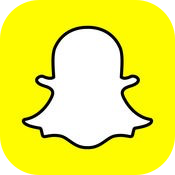 The great news?
It is totally free
Sound good?
What is Snapchat?
Snapchat is one of the most popular of all social media-type apps, with over 200 million happy snappers every month. It offers a cool way of interacting with others, and it opens straight into your camera – no messing around, just Snap and go!
Cool, right?
It gets better
App Features:
Snapchat offers lots of fun and cool features:
Completely free to use
Easy to use
Opens directly in your camera
New features and new selfie lenses added daily
Lots of ways to keep in touch, including Live Messaging, Group Stories, and more
Create a 3D Bitmoji
Play games with your face
Video chat supports up to 16 callers at once
View breaking news, Original Stories, and Community Stories
Location sharing optional – place yourself and see your friends on a map
Save your Snaps using free cloud storage
Use your Snaps to build a unique Story
Find other people using Charms – see what you have in common
Lots of other features
A word of warning
Although you may delete the Snaps you share, it doesn't stop others from saving them as screenshots or pictures on their cameras. Be very careful what you share!
Moving on
How to Download Snapchat:
All you need to do is open the Play Store on your Android device, find and download Snapchat, or tap the direct link to download it:
We're not done yet
Snapchat is a free app to use. There are in-app purchases, but they are not necessary for you to enjoy the app. However, if your kids or other people share your Android device, you might want to consider disabling them. This is easy enough to do:
Open the Play Store on your device
Open Android Settings
Tap on User Controls
Tap Set or Change Pin and input a pin number – 4 digits
Go back to User Controls and enable the option to Use Pin for Purchases.
That simple
If you are using the later Android versions, instead of a pin number you will use a password
Happy?
Download Snapchat and join the latest messaging revolution. For more Android app recommendations you can follow us on Facebook.
*Found a Broken Link? Report it below.