In the last couple of years, rooting has has gradually slowed down, maybe not entirely but certainly there are millions of users who now no longer want to root their devices because of its complexity. That causes a dilemma – do we stick with the stock Android , something we fought against for so long, or do we find another way to get the apps and tweaks we came to rely on ? Thanks to a handful of developers, the dilemma is solved because some of what was in Rooting is now available without the Root. Games emulators, always popular, are now easy to get without rooting, by installing an external app called HappyChick.

What is HappyChick ?
HappyChick is the latest emulator app to be released and, unlike the others that support just one type of console, this one supports multiple consoles – simply install and play any console game you want without needing extra emulators; to play some of the more modern games that are heavy on graphics, it is recommended that you have a minimum of 2GB RAM on your Android device.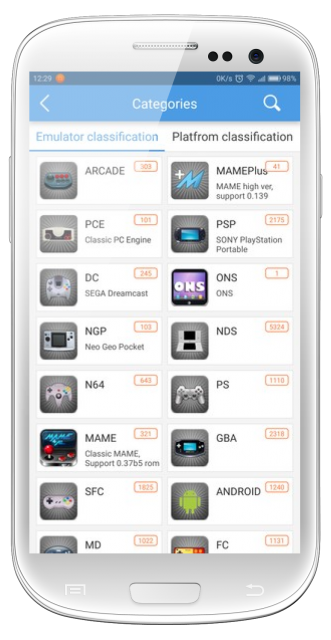 HappyChick Features :
Easy download
Simple app to use
Works without a jailbreak
Supported on all devices with Android JellyBean ( released 2012) and above
Works on some TV boxes and a handful of Smart TVs
More than 18 hosts and consoles supported – GBA, GBC, Nintendo, PPSSPP, PlayStation and others
Games to suit all preferences and all ages
Supports online multiplayer gaming
Gameplay recording built-in – share your video over Wi-Fi or Bluetooth
You can play some multiplayer online games without Wi-Fi as local servers are used
Cloud servers are used to host the games and to store your data and settings – fast, reliable, secure downloads and easy syncing
One-click-play support means not having to use separate emulators for different consoles – just choose your game, click and play
Create custom game maps and game controls
Lots more
How to Download HappyChick APK :
Downloading HappyChick requires that you first download an installer called ACMarket App, which is an emulator installer. Here's how:
Download Acmarket onto your device (  steps at link )
Open ACMarket app, search for HappyChick and download it or directly click on this APK download ( link )
Alternative HappyChick Download Method :
If you struggle to get on with ACmarket App or you can't get it to install on your device, you can get HappyChick from another third-party installer.

Just download Emus4U onto your device, open it and then you can search for and download HappyChick.
If its emulators you miss from Cydia then HappyChick is the ideal app for you. Providing support for so many consoles in one app, you can play all your favorite games in one single app. HappyChick is free to download so get it on your device today and try it. Let us know if you find your favorite games and follow us on Facebook for more tips and tricks
*Please let us know if the Download LINKS on this page are NOT WORKING.