Are you working your way through the GTA games? Then get ready for GTA: San Andreas, a great addition that is packed with more action than you can handle.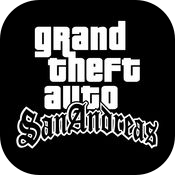 But
You can't download it free. It is priced at $6.99, and you also have a choice of in-app purchases that are designed to give your game a real boost.
Let's delve in
What is GTA: San Andreas?
GTA: San Andreas comes from Rockstar Games and is one of the coolest additions yet. You take on the persona of CJ as he goes back to a life he thought he had left behind for good. His mother is dead, murdered, and he wants to know who was responsible. His journey takes him back to San Andreas, where he faces corruption, gang warfare, drug gangs, and more in over 70 hours of action-packed gameplay.
Sound good?
Game Features:
GTA: San Andreas offers tons of features, including:
Made for mobile with fabulous high-res graphics
Brand new lighting effects
Updates to character models
Supports MFI ( Made For iOS ), controllers
Save your games to the cloud*
Camera control and movement via dual analog controllers
Game controls and themes can be customized how you want them
Requires Android 7.0 or higher
Support for English, Russian, German, French, Spanish, Italian, and Japanese languages
Many more features
* Only for members of the Rock Star Social Club
It doesn't get better than this
How to Download GTA San Andreas:
There is only one way to download GTA: San Andreas, and that is from the official Android app store. Or you can click the direct link below and tap on Download on the official app page:
As easy as that
GTA: San Andreas provides you with all you could possibly want from a game – plenty of action, loads of thrills and spills, fun, explosions, and much more. You cannot get it for free – you must pay the $6.99 price if you want the game, but you don't have to go for any in-app purchases. If you are concerned that others who use your device may make in-app purchases, you can protect them with a pin or password:
Launch the Play Store on your device and then open your Settings app
Tap User Controls > Set Pin/Password
Type in the pin or password and go back to User Controls
Enable the Pin or password for all in-app purchases
Download it today and follow us on Facebook for more tips.
*Found a Broken Link? Report it below.