Are you a fan of Clash of Clans? Then you will love Clash Royale! One of the very best real-time multi-player games we have, Clash Royale is based on the Royales, and many other characters and troops from Clash of Clans. Even better, it is free to download from the Android Play Store.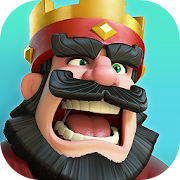 What is Clash Royale?
Clash Royale is a real-time strategy game. Fight others in duels that last no more than four minutes of hectic addictive fun. All your favorites from Clash of Clans are here – Archers, Barbarian Kings, Giants, Wall Breakers and many more, all facing one another down in the arena.
Gameplay is very simple – you begin with three towers and you use your own troops to take out your opponent's central tower and defend your own, of course. Tournaments go for three minutes, although extra time is awarded in the event of a tie.
Wait, there's more
How to Download Clash Royale:
All you need to do to get the game on your Android device is head to the official app store. Search for it, tap it and install it. Once its done, simply tap the icon to open and join the battle:
It is that simple!
It is a free game to download and you can play it for free. However, there are in-app purchases that allow you to boost your game and make things more competitive. If you don't want the option of purchasing, simply disable in-app purchases:
Open Settings and go to User Controls
Tap to set a password or pin
Input your password or pin
Go back to User Controls and set the option for using it with purchases.
In-app purchases will now require a password or pin before they can be made.
Game Features:
And when you play the game, you get all these features and more:
Fight against players from all over the world
Chests that help you get great rewards, new cards and upgrades to the ones you have
Destroy towers and win crowns from your opponents
Build up your card collection
Build a Battle Deck to beat all others
Fight your way through dozens of arenas
Form your own clan or join another
Challenge friends and Clanmates to duels
Much more
Your turn now
Go download Clash Royale and join the battle! Share your progress with us and follow us on Facebook for more cool tips.
*Found a Broken Link? Report it below.